Summary of American Middle East Institute & U.S.-U.A.E. Business Council
Virtual Trade Mission to the United Arab Emirates (U.A.E.)
Wednesday, July 15, 2020
Featuring
His Excellency Abdalla Shaheen, Consul General of U.A.E. in New York
& Honorable William Peduto, Mayor of Pittsburgh, Pennsylvania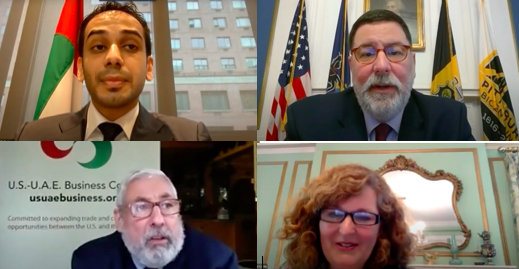 From Left to Right – Top Row: His Excellency Abdalla Shaheen, Honorable MayorBill Peduto
Bottom Row: Mr. Danny Sebright, Ms. Simin Curtis
On July 15, 2020, the American Middle East Institute (AMEI) partnered with the U.S.-U.A.E. Business Council to host our first "virtual" trade mission to the U.A.E. There were three sessions – a general overview, followed by two break-out sessions, one on health and one on advanced manufacturing. A summary of each session follows.
To watch each session, please click on the videos below:
Recording of General Overview – Doing Business in the U.A.E.
Recording of Opportunities of Healthcare in the U.A.E.
Recording of Opportunities in Advanced Manufacturing in the U.A.E.

General Overview – Doing Business in the U.A.E.
AMEI President and CEO Ms. Simin Curtis welcomed His Excellency Abdalla Shaheen, Consul General of the U.A.E. in New York, whose area of responsibility covers the Eastern region of the US. HE Shaheen pointed out the strong trade relationship that exists between the U.S. and the U.A.E. The U.A.E. is responsible for many jobs in Pennsylvania, and its sovereign wealth fund owns Nova Chemicals, located in Pittsburgh (where AMEI is headquartered).
Mr. Danny Sebright, President of the US-U.A.E. Business Council, gave a slide presentation and described the goals of the Council, which include raising awareness, educating business and community leaders, and facilitating strategic engagement between member companies and senior government officials. Both H.E. Shaheen and Mr. Sebright emphasized the various opportunities for doing business in the U.A.E., particularly in the technology, healthcare, and food security sectors. H.E. Shaheen high-lighted the U.A.E.'s upcoming first launch of the probe to Mars, as well as its hosting of the Expo 2020 – now moved to October 2021 due to the corona virus – which will be the first world expo to be held in a Middle East country.

Opportunities in Healthcare in the U.A.E.
Ms. Simin Curtis, Mr. Danny Sebright, and Mr. Christopher Ulmer, the Business Council's healthcare lead, discussed the various opportunities and interests in healthcare in the U.A.E.
Mr. Ulmer highlighted the U.A.E.'s national agenda titled Vision 2021, where healthcare is one of the sectors of focus. The U.A.E. aims to adopt the best global practices and become a medical tourism hub. Thus far, COVID-19 has prioritized the use of telemedicine practices and increased opportunities in medical technology fields. The U.A.E. is focused on driving innovation in medical technology with successful institutions such as Dubai Future Labs, which concentrates on applied research and technology, as well as a surge of 3D printing innovation centers that have created effective prosthetics and masks in light of the corona virus. The U.A.E.'s determined efforts in the medical technology field, including digitalized health data, healthcare IT, 3D printing, and automated patient healthcare, have brought multiple opportunities to fruition.
As a city that is widely recognized for its healthcare institutions, Pittsburgh is in an excellent position to partner with the U.A.E. and take advantage of some of these opportunities. Mr. Sebright and Mr. Ulmer reiterated the importance of communication and building relationships in efforts of creating business partnerships. Whether it is sharing knowledge or physically setting up a business in the U.A.E., patience, persistence, and diligence are necessary in order to form professional relationships.
Moving forward, the U.A.E. is eagerly awaiting Expo 2021 in Dubai, which will exhibit a focus on mobility in healthcare. Dubai is also hosting Arab Health 2021, which is dedicated to gathering professionals and companies globally and promoting medical innovations and ideas. With healthcare as a rapidly growing sector in the U.A.E., companies from the U.S. are strongly encouraged to engage and the U.A.E. is welcoming and excited to meet all future partners.
Opportunities in Advanced Manufacturing in the U.A.E.
In the third segment of the virtual trade mission, Ms. Curtis and Mr. Sebright were joined by Honorable Mayor of Pittsburgh William Peduto, and the US-U.A.E. Business Council's Advanced Manufacturing lead Ms. Mary Zuccarello.
Mayor Peduto's stated that Pittsburgh is strong in advanced manufacturing. With a rich history in steel production, Pittsburgh holds a past legacy of industrialization, and sees the future of manufacturing in technology and sustainability. Former President Obama established the advanced manufacturing center in Pittsburgh, which further cultivated a hub of innovation. Mayor Peduto noted the city's internal relationships with universities, as well as external relationships with government officials and corporations. The Mayor firmly believes that with Pittsburgh's size and talent, it can make substantial progress in advanced manufacturing.
Mr. Sebright and Ms. Zuccarello then explained U.A.E.'s advantages and strengths in manufacturing which include the production of metals, aerospace and defense materials, petrochemicals, and various consumer goods. The U.A.E. also has many manufacturing initiatives such as the national strategy for the fourth industrial revolution, which will position the U.A.E. as a global manufacturing hub. The Dubai Industrial Strategy 2030 demonstrates sustainable and innovative efforts to gain a global platform in the future of industry. The Global Manufacturing and Industrialization Summit (GMIS) is also a key establishment between the U.A.E. and the United Nations to connect and initiate the fourth industrial revolution.
There are many ways to get involved in manufacturing partnerships and investments at the international level. Mr. Sebright advised that U.S. companies approach U.A.E. businesses with innovative ideas and willingness to commit to the U.A.E.'s sustainability goals. Many opportunities in advanced manufacturing overlap with healthcare opportunities including technology and robotics.
Summary from U.S.-U.A.E. Business Council: Pittsburgh Mayor and U.A.E. Consul General in New York Praise Burgeoning Relationship Between Steel City and U.A.E.