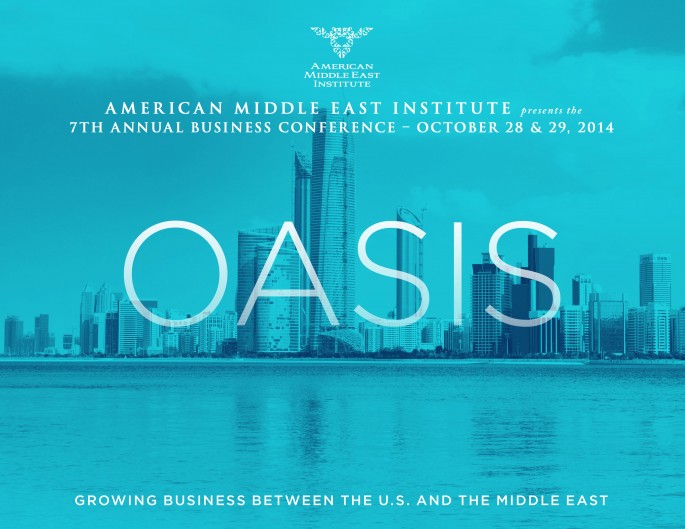 The American Middle East Institute
presents
Oasis:
Growing Business between the U.S. and the Middle East
CONFERENCE LOCATIONS
Daytime Business Conference- Tuesday, October 28, 2014
Fairmont Hotel- Pittsburgh, Pennsylvania
Evening VIP Sponsors Dinner & Lecture with General David Petraeus
Carnegie Music Hall- Pittsburgh, Pennsylvania
DAY 1
Tuesday, October 28, 2014
Fairmont Hotel, Pittsburgh, Pennsylvania
8:00 am to 9:00 am – Registration & Breakfast
9:00 am to 2:30 pm – Business Conference
The Business Conference on Tuesday, October 28, 2014, (DAY 1), will be followed that evening by a VIP Sponsors Reception, Dinner, and Lecture by General H. David Petraeus at
Pitttsburgh's historic Carnegie Music Hall.
For information on how to feature your company during the business conference and attend the VIP evening events, please contact Maria Hastings, Director of Operations, for sponsorship opportunities.
Email: mhastings@americanmei.org or call +1.412.995.0076
DAY 2
Wednesday, October 29, 2014
Exclusive site visits for dignitaries and sponsors to premier companies in the southwestern Pennsylvania region.
Please continue to check back for updated company tour list.
ABOUT THE CONFERENCE:
The American Middle East Institute's 7th Annual Business Conference, on Tuesday, October 28, 2014, in Pittsburgh Pennsylvania, is a high-level gathering of Middle East Ministries, American and Middle East decision makers from leading global companies and influential organizations focused on growing business opportunities between the United States and the countries of the Middle East.
Themes will include Oil & Gas, Renewables, Smart Cities & Infrastructure, and Innovations in the Health Sector, including the latest in pharmaceutical research and development.
PANEL TOPICS:
BUILDING THE SMART CITY = SMART INFRASTRUCTURE
What does it mean to be a smart city?  How do the architects and planners design the infrastructure to support the needs of a growing population using innovative and cutting edge technological advances?  This panel will explore the transformational changes taking place in the Middle East.  From rail and airports to roads and green buildings, this lively discussion on smart cities promises to be one of this year's most informative, business-enhancing conversations.
A HEALTHY DIAGNOSIS:  DELIVERING HEALTH INNOVATION
From success in health coverage and hospital management to innovative partnerships in research and technology, including life-saving pharmaceutical breakthroughs, the Middle East is building world-class health facilities and fostering preventative care and innovation.  This conversation will feature leading Middle East and U.S. health professionals sharing lessons and opportunities in this dynamic field of progress.
SUSTAINING THE FUTURE:  SUPPORTING DEMAND WITH RENEWABLE SUPPLY
The Gulf nations and the entire Middle East region are applying smart policies and leading edge technologies to meet their energy needs for generations to come.  As the Pittsburgh region is home to the largest-producing natural gas wells in the U.S., discussions will include technology around upstream and downstream potential. The "sustaining the future" panel will discuss leading edge technologies in the oil and gas field, including improvements to facilities in energy efficiency, reliability, environmental control, and technology.
The Business Conference will be followed by a VIP Sponsors Reception, Dinner & Lecture by General David H. Petraeus at the Carnegie Music Hall.
For information on how to sponsor and attend the VIP Sponsors Dinner please contact Maria Hastings, Director of Operations:  mhastings@americanmei.org or call:  +1.412.995.0076