On June 1, 2021, AMEI was proudly joined by His Excellency Ambassador Moosa Al Tai and the Honorable Ambassador Leslie M. Tsou for our Business Marches On webinar series titled: "Spotlight Oman – Opportunities in Trade, Tourism, & Education." The dialogue was hosted by AMEI President and CEO Simin Curtis and moderated by Bill Flanagan, Chief Corporate Relations Officer of the Allegheny Conference on Community Development. Throughout the discussion, Ambassador Al Tai and Ambassador Tsou highlighted the beauty of Oman and the opportunities that prevail in trade and the flourishing economy, tourism, and education.
Since the free trade agreement between the U.S. and Oman in 2009, both Ambassador Al Tai and Ambassador Tsou emphasized the importance of trade, as well as maintaining good relationships to promote peace and prosperity in both regions. They discussed the following opportunities in terms of beneficial bilateral trade and business operations:
Oman Vision 2040 plan to diversify economy

Oman's Invest Easy Portal that encourages online investments and business procedures in a quick and accessible format

The size of Oman's economy allows for small and local businesses/entrepreneurship to prosper, not just big businesses

Trade with Oman slowed down during pandemic, but opportunities are starting to grow post-pandemic

Interest in investments in Oman from American companies is lagging because of current economy, however it is improving

Commercial officer in Oman is dedicated to welcoming businesses
With the positive relationship that the U.S. and Oman hold, business are encouraged to reach out to the commercial officer and/or Ambassador Tsou and the embassy to further discuss business operations.
As one of the safest and most secure places in the region, Oman is in a key position to promote tourism and education. Ambassador Al Tai encouraged tourism by highlighting the unique beauty and positioning of Oman:
Oman offers a diverse geography and climate, and everyone is welcome!

Easy to visit with many other airline companies entering Oman

Can drive from coast to mountain within an hour in Oman (geographically small), can do a lot of things very conveniently
Ambassador Tsou reaffirmed the feelings of safety and security in the region by acknowledging the consistent kindness of Omanis during an extremely difficult time, including the death of former leader Qaboos bin Said followed by the pandemic. With this atmosphere and Oman's dedication to growing a knowledge-based economy, Ambassador Tsou sees excellent opportunities in education in Oman. In terms of education, Ambassador Tsou mentions that 3,000 Omani students currently attend U.S. universities and that she would like to see more Americans in Omani universities. Both countries are working towards this goal and urge students to seek these opportunities. Ambassador Al Tai and Ambassador Tsou look forward to continuing trade, growing economies, welcoming businesses, and promoting tourism and education.
Watch the video of Spotlight Oman – Opportunities in Trade, Tourism, & Education

Biographies of Speakers: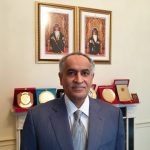 H.E. Ambassador Moosa Hamdan Moosa Al Tai
Ambassador of the Sultanate of Oman to the United States of America
Embassy of Oman, Washington DC
His Excellency Ambassador Moosa Hamdan Moosa Al Tai is the current Ambassador of the Sultanate of Oman to the United States in Washington D.C., appointed in December 2020 and beginning his assignment in January 2021. Ambassador Al Tai served most recently as Chief of the West Asia Department at the Omani Ministry of Foreign Affairs, and previously as Strategic Director of the National Defense College in Muscat (2016-2019), and Chief of the International Cooperation Department at the Ministry of Foreign Affairs (2013-2016).
From 2009-2013, Ambassador Al Tai was Ambassador to Morocco, concurrently serving as Non-Resident Ambassador to Mauritania, Mali, and the Central African Republic, and was the recipient of a Medal of Honor granted by the King of Morocco in 2013.
From 2001 to 2009, Ambassador Al Tai served as the Ambassador to the Republic of Korea and received the Order of Diplomatic Service Merit Medal granted by the President of the Republic of Korea. Educated in the U.S. (B.A., PLU, Tacoma) and Oman (M.A., Sultan Qaboos University), Ambassador Al Tai was a delegate to the Oman Mission to the United Nations in New York (1993-1998) and a Second Secretary at the Ministry of Foreign Affairs (1989-1993).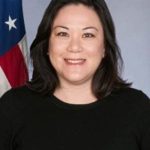 Hon. Ambassador Leslie M. Tsou
Ambassador to Oman from the United States
Embassy of the United States, Muscat

Ambassador Leslie M. Tsou, a career member of the Senior Foreign Service, class of Minister Counselor, arrived as U.S. Ambassador to the Sultanate of Oman on January 10, 2020. Prior to her appointment, she served as the first Deputy Chief of Mission of the U.S. Embassy in Jerusalem following its opening in May 2018. She previously served as Deputy Chief of Mission at the U.S. Embassy in Tel Aviv from 2016 to 2017, and as Senior Advisor for Iran (2015-2016) and Director of the Office of Iranian Affairs (2012-2015) in the Near Eastern Affairs Bureau at the Department of State. She was Deputy Political Counselor at the U.S. Embassy in Baghdad (2011-2012) and Director of Arabian Peninsula Affairs on the National Security Staff at the White House (2010-2011).
Ambassador Tsou's other overseas tours of duty include London, Tripoli, Kuwait City, and Warsaw. Her domestic tours of duty include the UK desk, the Libya desk, the Tunisia desk, and several assignments in the Office of the Secretary of State.
Ambassador Tsou earned a B.S. at Georgetown University in Washington, D.C. She is the recipient of numerous Department of State awards, including the 2003 Director General Award for Reporting. She speaks Arabic and Polish.
Moderator:
Bill Flanagan
Chief Corporate Relations Officer
Allegheny Conference on Community Development
Bill Flanagan serves as Chief Corporate Relations Officer for the Allegheny Conference on Community Development. In this role, Bill guides the development of regional and organizational messaging strategy, and works with public and private sector partners to improve the economy and quality of place across the Pittsburgh region.
In 2009, Bill served as president of the Pittsburgh G-20 Partnership, the public-private partnership that welcomed the world to Pittsburgh for the G-20 Summit. An experienced broadcast journalist, Bill has told the story of the transformation of the economy in Pittsburgh, Pennsylvania for more than 35-years. He serves as host and producer of "Our Region's Business," a weekly business public affairs program now in its 15th year on WPXI-TV in Pittsburgh, PA, the Pittsburgh Cable News Channel (PCNC), and YouTube.