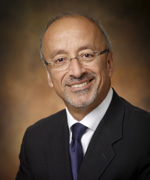 Samir A. Khalil
Executive Director, Middle East & Africa
Pharmaceutical Research and Manufacturers of America (PhRMA)
Samir A. Khalil is Executive Director, Middle East & Africa, Pharmaceutical Research and Manufacturers of America (PhRMA), an international trade association that represents the world's leading research-based pharmaceutical companies. In this position, his primary focus is to work with Governments in the Middle East & Africa Region and PhRMA member companies to advance policies in areas such as access to medicines, innovation, healthcare financing, trade, intellectual property rights protection, and other industrial and healthcare policies.
Prior to Joining PhRMA in 2013, Samir worked with Merck & Co, Inc. since 1974. During that time, he held several positions including; Executive Director, Public Policy for Asia Pacific, China and Latin America; Regional lead for Policy & Ex. Affairs, Middle East & Africa; Executive Director, HIV Policy for Europe, Middle East and Africa, where his focus was to drive Merck's initiatives to improve access to HIV/AIDS care and treatment in the developing world. At different time of his service to Merck, Samir was the Managing Director for two Merck subsidiaries, Egypt and Saudi Arabia; and was the Director, Management Operations, Far East Pacific, where he was part of the team in the early nineties that initiated Merck's direct operations and structure in key countries in Far East Pacific, including, Taiwan & Korea.
Samir represented Merck on the Board of Directors of the Merck/Gates/Botswana partnership in Botswana, known as the African Comprehensive HIV/AIDS Partnerships (ACHAP) and chaired the Board of Merck's partnership with the Government of China, known as China – MSD HIV/AIDS Partnership (C-MAP).
He holds a Bachelor of Science degree in Pharmacy.