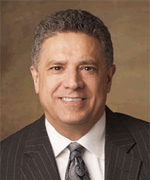 Mark V. Santo, Esq.
Marco Q. Rossi Associati
Vice President & Officer of the Board, AMEI
Mark V. Santo is a Member in the International Law Firm of Marco Q. Rossi & Associati and his practice concentrates upon global capital markets and cross border mergers and acquisitions.
Drawing upon his unique experience as both a CEO as well as a General Counsel of global enterprises, Mark brings a distinct perspective to his client's international objectives, fusing executive management and legal experience into a powerful value added advisory service. He is valued highly by his clients for his management acumen as well as his international legal skills.
Mr. Santo began his international legal career following his graduation from Georgetown University Law Center with an LLM in International and Comparative Law. Early in his career, Mark joined the Finmeccanica Group of Rome, Italy, one of the world's largest aerospace conglomerates in the world. Mark served as Group VP and General Counsel of Finmeccanica's Elsag Bailey Group, the most important investment in the US by an Italian company at that time. Mark served as a senior executive engaged in the execution of over $3+ billion dollars of cross border mergers and acquisitions, with Elsag Bailey revenue growing from $200 million to $2 billion within a seven year period, culminating in a workforce of 12,000 employees and 40 operating units in 25+ countries and with a listing upon the NYSE. In 2000, Mark played a key management role in the divestiture of Elsag Bailey, which resulted in its sale to ABB for $2.1 billion dollars at a 100% increase in share value.
Following the sale, Mark was a founder of Glengary Ventures, a Cleveland based early stage technology fund. While at Glengary, he served as COO of Nanodielectrics Corporation, an early stage photovoltaic energy venture. In 2003, Mark acquired Parvus Corporation, a Salt Lake based aerospace group on behalf of the Eurotech Group, a Venice based embedded systems multinational. Mark served as President of Parvus and successfully led its restructuring.
Mark also served as Adjunct Professor of Corporate Strategy at the John F. Donahue Graduate School of Business at Duquesne University and has guest lectured upon international law matters at Case Western Reserve and Duquesne University Schools of Law. Mark is also active in foreign affairs and presently serves as Vice President and Officer of the Board of the American Middle East Institute. From 2007 – 2009, he served as President and CEO of the Cleveland Council on World Affairs, one of the oldest and most prestigious World Affairs Councils in the Nation. During his career, Mark has enjoyed the distinct privilege of meeting and hosting dignitaries from the world over and continues to address domestic and international forums upon foreign policy matters.
Today, Mark serves clients operating across the globe in Asia, Western Europe, Americas and the Middle East.