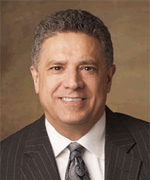 Mark V. Santo, Esq.
Vice President & Officer of the Board, AMEI
Mark is an accomplished international business executive who brings a distinct perspective to his client's business strategy and operations, fusing executive management and legal experience into a powerful value-added advisory service. He has served as General Counsel of the world's leading industrial process automation groups, including Elsag Bailey (now ABB) and Yokogawa Corporation of America, as well as a major European Defense Group – Leonardo SpA. In addition, Mark has served as President of a U.S. operating unit of a European Embedded Computing Group.
He has led major mergers and acquisitions across the globe, participated in public offerings on the NYSE, NASDAQ as well as upon the European Continent. He has led the entry into North America markets for clients in China, Germany, Italy, and Japan though foreign direct investment projects, joint ventures as well as strategic technology licenses and has instituted global corporate compliance programs as well as leading internal antibribery investigations.
Mark is also an Adjunct Professor of Global Business in the MBA program at Duquesne University. He also serves upon the Board of the American Middle East Institute and is a Co-Founder of the Western Pennsylvania Global Business Forum.