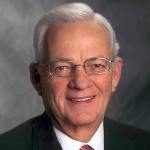 In Memory of the Honorable Paul H. O'Neill (1935-2020)
Former US Treasury Secretary
Honorary Founding Chair Chair, AMEI Advisory Council (2008-2020)
Paul O'Neill, Treasury Secretary, Dies at 84 – New York Times
Paul O'Neill, Former Treasury Secretary and Alcoa CEO, Dies – Wall Street Journal
Paul H. O'Neill, former Treasury secretary and Alcoa Giant, dies at 84 – Pittsburgh Post Gazette
A Letter from the American Middle East Institute's CEO – Simin Curtis:
Dear Friends:

It is with a heavy heart that I write to you about the passing on April 18, 2020 of Paul O'Neill, the former U.S. Treasury Secretary and CEO of ALCOA. Paul was my friend, next-door neighbor for 28 years (!), and Honorary Founding Chair of the American Middle East Institute.

Paul was one of Pittsburgh's shining lights – wise, accomplished, generous with his time and resources, and always seeking to solve problems no matter how intractable or controversial.

He agreed without hesitation to serve as Founding Chair of our institute back in late 2007 because he supported our commitment to commercial, educational, and cultural diplomacy and to the building of stronger, more productive relationships with the countries of the Middle East.

Paul was a great mentor and opened the door for us to many influential individuals. He inaugurated our first annual conference in 2008 at Pittsburgh's Heinz Hall, introducing his friend, the noted columnist and author Thomas Friedman, as our first speaker.

On behalf of the American Middle East Institute, I would like to extend our heartfelt condolences to Paul's dear wife Nancy and his large, loving family.
Sincerely,
Simin Yazdgerdi Curtis
President, CEO, and Founder
American Middle East Institute
Paul. H O'Neill Biography:
Paul H. O'Neill served as 72nd Secretary of the US Treasury from 2001 to 2002 under George W. Bush's presidency, a period when the economy was in the midst of a sharp slowdown. Due to his public disagreement with the administration's economic policies — primarily its belief that tax cuts are the answer to stimulating the economy — he was asked to resign in December 2002.
O'Neill is a founder of Value Capture, LLC, where he provides counsel and support to healthcare executives and policymakers who share his conviction that the value of healthcare operations can be increased by 50 percent or more through the pursuit of perfect safety and clinical outcomes. In addition, during a time when strategic advice on healthcare decisions was needed, O'Neill's 2007 Op Ed published in the New York Times discussed reluctance among politicians to address comprehensive reform in the U.S. health care system. In the opinion, he suggested that doctors and hospitals should be required to report medical errors within 24 hours, as well as moving malpractice suits out of the civil courts and into a new, independent body. Health care reform, he argued, must take all aspects of the problem into simultaneous consideration.
He began his public service as a computer systems analyst with the U.S. Veterans Administration from 1961 to 1966 and served on the staff of the U.S. Office of Management and Budget from 1967 to 1977. He was also deputy director of OMB from 1974 to 1977.
He later served as chairman and CEO of Alcoa, the world's leading producer of primary aluminum, from 1987 to 1999 and retired as chairman at the end of 2000. His reign was extremely successful, as the company's market value increased from $3 billion in 1986 to $27.53 billion in 2000, while net income increased from $200 million to $1.484 billion.
Prior to joining Alcoa, O'Neill was president of International Paper Company from 1985 to 1987 and vice president from 1977 to 1985. He serves as a board member at the National Quality Forum, RAND, and more than a dozen other major corporations and nonprofit organizations.
Paul O'Neill received a bachelor's degree in economics from Fresno State College, studied economics at Claremont Graduate University in 1961 and received a master's degree in public administration from Indiana University.