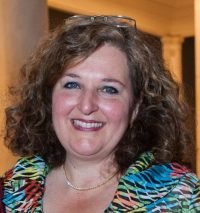 Simin Yazdgerdi Curtis
President, Chief Executive Officer and Founder
American Middle East Institute
Simin is President, CEO, and Founder of the American Middle East Institute (AMEI), an independent, national, non-profit organization that was formally incorporated in Pittsburgh in 2008. AMEI works to facilitate greater business, educational, and cultural partnerships between the U.S. and the countries of the Middle East & North Africa. Simin believes these kinds of connections represent a powerful form of diplomacy, and over the years she has led many delegations to the Middle East and hosted in Pittsburgh many high-level groups from the Middle East & North Africa. The Institute's signature annual business conferences have featured Mideast royalty and ministers, and such well-known U.S. figures as Henry Kissinger, Madeleine Albright, Colin Powell, and Apple co-founder Steve Wozniak.
Simin is a for-profit and not-for-profit entrepreneur, who helped her husband, Greg Curtis, found Greycourt & Co., Inc., an investment advisory firm to many of the world's wealthiest families, where she served as vice president of marketing and communications for many years. Previously, Simin worked on Capitol Hill as a Principal Legislative Aide in the U.S. Congress and subsequently directed government affairs for a nonprofit organization working on immigration policy. Active in many civic and business organizations, she is a founder of the Ellsworth Avenue Business Association, past president of the Harvard Club of Western Pennsylvania, a past Director of the Harvard Alumni Association, and past Board member of the World Affairs Council of Pittsburgh. Simin is proud to have been appointed Honorary Consul of the Sultanate of Oman in Pittsburgh and has served in this role since 2010.