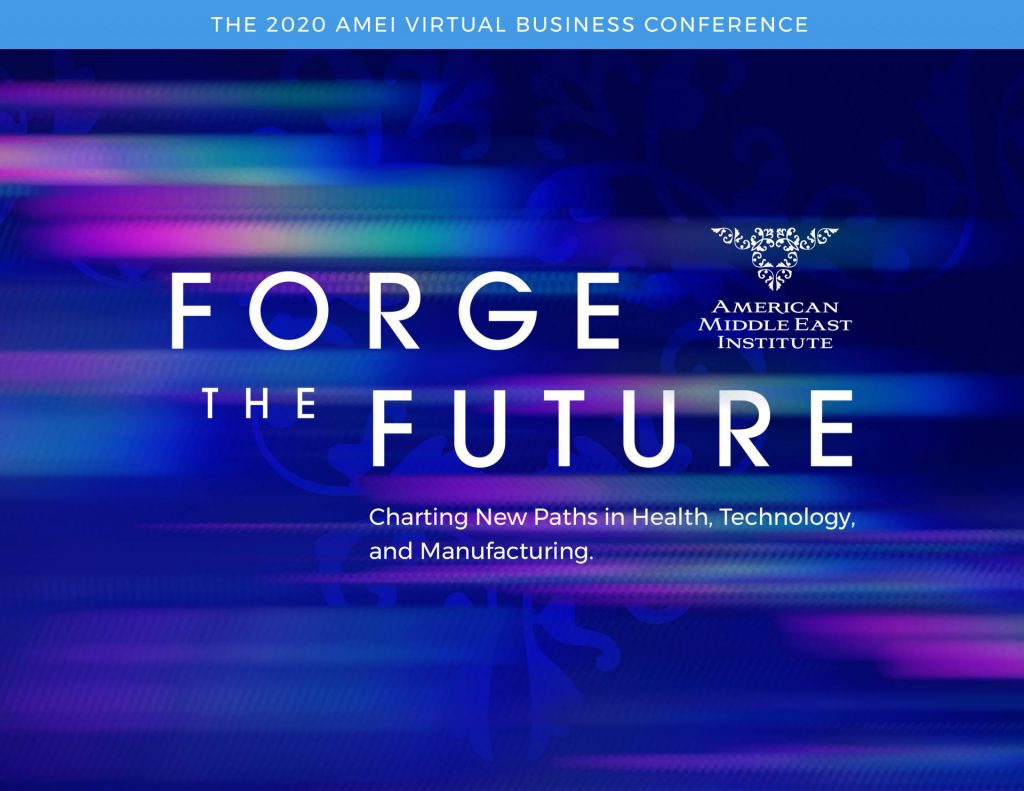 The American Middle East Institute's
13th Annual Virtual Business Conference

Forge the Future:
Charting New Paths in Health, Technology & Manufacturing
Join the American Middle East Institute as we host our first virtual conference on Wednesday, October 14, 2020, from 9:30 am to 11 am EDT. Due to the restrictions of COVID-19, this event will take the place of our traditional fall business conference, our 13th annual event.
The conference will feature U.S. & Mideast experts and dignitaries.Themes will be healthcare, advanced manufacturing and robotics. More details coming soon! Email Maria Wagley with questions at mwagley@americanmei.org.
Speaker Line-up:
Welcome: Honorable William Peduto, Mayor of Pittsburgh
Special Greeting: Dr. Sanjay Gupta, neurosurgeon and CNN's Chief Medical Correspondent
Remarks:
Dr. Patrick Gallagher, Chancellor, University of Pittsburgh
Ms. Sylvia Menassa, Chief Executive Officer, American Chamber of Commerce in Egypt – based in Cairo
Ms. Audrey Russo, President & Chief Executive Officer, Pittsburgh Technology Council
Health:
Dr. Ahmed Khalil, Senior Director, Government Affairs and Policy, North Africa, Johnson & Johnson, Co-Chair of Healthcare Committee, AmCham Egypt – based in Cairo
Mr. Samir Khalil, Head of Pharmaceutical Research and Manufacturers of America (PhRMA) for Middle East & Africa – based in Dubai
Dr. Ezz-Eldin Moukamal, Chief Medical Officer, Allegheny Health Network-Forbes Hospital
Dr. Steven Shapiro, M.D., Executive Vice President, Chief Medical and Scientific Officer, and President, Health Services Division, UPMC
Advanced Manufacturing:
Mr. Badr Al-Olama, Head of Aerospace & Defense for UAE's Mubadala Investment Company and Head of the Organizing Committee, Global Manufacturing and Industrialization Summit (GMIS) – based in Abu Dhabi
Mr. Ira Moskowitz, Chief Executive Officer, Advanced Robotics for Manufacturing (ARM)
Mr. Danny Sebright, President, U.S.-U.A.E. Business Council
Mr. Mark Thomas, President, Pittsburgh Regional Alliance
Moderated by Mr. Bill Flanagan, Chief Corporate Relations Officer, Allegheny Conference on Community Development and Ms. Simin Curtis, President & CEO, American Middle East Institute.