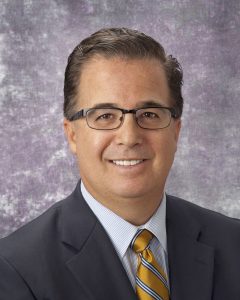 Charles Bogosta
Executive Vice President
President, UPMC International
President, UPMC Hillman Cancer Center
UPMC
As the executive vice president of UPMC and president of UPMC International, Mr. Bogosta is responsible for the expansion of UPMC's world-class medical care, technology and services to patients and health care providers around the world.
He oversees a portfolio of international projects spanning multiple clinical specialties, with a geographic focus on Italy, Ireland, Kazakhstan and China. UPMC leverages its medical, operational and technological expertise to provide the best possible care to patients close to where they live.
Mr. Bogosta also leads the UPMC Hillman Cancer Center and a network of nearly 70 cancer treatment centers providing world-class care close to patients' homes. UPMC Hillman Cancer Center is among the largest cancer-care networks in the country and part of one of the nation's largest health systems, providing cancer care to more than 110,000 patients annually.
Before joining UPMC in 1997, Mr. Bogosta was one of the founding members of Corporate Health Dimensions, an Albany, N.Y., firm specializing in the direct contracting of pharmacies and outpatient clinics for major U.S. companies. He also served as an executive at Health Enterprises Management, which financed and operated freestanding surgery centers and imaging centers.
Mr. Bogosta earned a Bachelor of Science in Business Administration from the State University of New York and a Master of Arts in Educational Administration from Bowling Green University. He also has been awarded a Doctorate of Humane Letters from State University of New York at Oneonta.