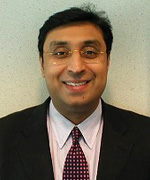 Venkee Sharma
President and CEO
Aquatech International
Venkee Sharma has been at the helm of Aquatech for 20 years. In this time, the company has transformed from a small, regional manufacturer of industrial water treatment equipment to a recognized and respected major player in global water industry.
Venkee is fiercely independent and has undying determination to take Aquatech to the pinnacle of water technology and service leadership. He is very growth oriented, but strives for balance with family values, an unassuming demeanor, and a fiscally conscious business approach.
Aquatech is a global leader in innovative water technology and services for the Industrial and infrastructure markets with a focus on solving water scarcity and Environmental challenges through desalination, water reuse, and zero liquid discharge.
He has received Engineering Degrees in Chemical and Biomedical Engineering from Carnegie Mellon University (CMU), and has completed advanced serving on the Advisory Board of the US Ex-Im Bank.