Leaders Convene
Tuesday, October 29, 2013
 Morning Business Conference
8:00 am – Breakfast & Registration
9:00 am – 2:30 pm – Program
Fairmont Hotel
Downtown Pittsburgh, Pennsylvania
Sponsor's Dinner & Evening Lecture
Carnegie Music Hall
Pittsburgh, Pennsylvania

Business Conference Panelist to date.  Please check back daily as we continue to update our speaker list.
Click here for speaker's biographies
Conversation with Eng. Khaled Ali, Vice Chairman of Egyptian Holding Company for Natural Gas, EGAS
Panel One: Global Shale Plays – Propelling the Natural Gas Revolution
This panel will feature the major industry players leading the global shale gas revolution, particularly within the United States, including the booming tri-state region of southwestern Pennsylvania, West Virginia, and Ohio.

Moderator:  Kathryn Klaber, CEO, Marcellus Shale Coalition
David Porges, CEO, EQT
Prof Radisav Vidic, Center for Energy – University of Pittsburgh
Roger Willis, President, Universal Well Services
Robert Kozel, CEO,Texas Keystone/Mountaineer Keystone
Special Conversation on Global Shale Plays with Roger Willis of Universal Well Services and Mike Hogan of Hogan Energy Consulting
Panel Two: Downstream Renaissance – Economic Transformation for Consumers
Opportunities abound in the newly resurgent petrochemical industry that shale gas production supports, leading to increases manufacturing from everything to automotive parts to new kinds of "green" building materials.
Moderator:  Bill Flanagan, Executive Vice President, Allegheny Conference
Flemming Bjoernslev, CEO, Lanxess
Richard J. Harshman, Chairman, President andCEO, Allegheny Technologies Incorporated
Panel Three: Accelerating Innovation – Trends, Solutions in the Energy-Water Nexus
This panel will highlight the changing needs of the energy industry with respect to water, key areas of innovation that are meeting those needs, and the channels through which important innovations are occurring.
Moderator:  Bill Flanagan, Executive Vice President, Allegheny Conference
 Venkee Sharma, CEO, Aquatech
 Randy Dearth, CEO, Calgon Carbon
 John Smith, Director of Sustaining Technologies, ALCOA
Panel Four: Renewable Energy: Models for the Middle East's Growing Green Energy Sector
This will be a special conversation about renewable energy sectors, including alternative energy, an important growth business in the Middle East.
Moderator:  Dr. Steven Sokol, President & CEO, World Affairs Council of Pittsburgh
 Dr. Esther Barazzone, President, Chatham University
Randolph "Randy" Galm, Vice President, Europe, Middle East and Africa (EMEA), Nuclear Power Plant (NPP) Business & Project Development, Westinghouse Electric Company3.  Shakil Rahman,Director of International Development for NRG Solar; Liaison to Saudi's King Abdullah City for Atomic and Renewable Energy
 Paulina Jaramillo, Executive Director, RenewElec Project; Assistant Professor, Engineering and Public Policy, Carnegie Mellon University
 R. Todd Johnson, Global Head, Renewable Energy and Sustainability, Jones Day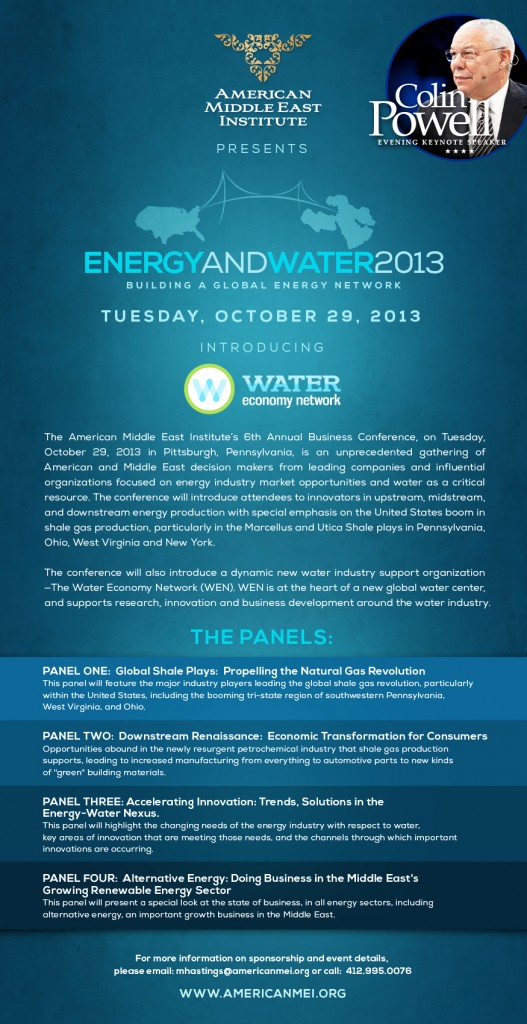 For more information on sponsorship and event details, please email: mhastings@americanmei.org