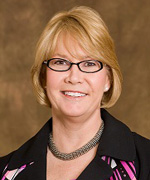 Robbee Baker Kosak
Vice President of University Advancement
Carnegie Mellon University
Robbee Kosak is a leader in expanding the field of global philanthropy in higher education. Carnegie Mellon has been a pioneer among U.S. research universities in building new campuses and degree programs around the world, and Mrs. Kosak has created successful strategies for strengthening and marketing these programs among global institutional partners and foreign governments, especially in the Middle East, East and South Asia, and most recently in Africa—greatly expanding the university's presence in parts of the world in great need of higher education opportunities, especially in technology.
Mrs. Kosak has also extended the reach and range of development programs among the university's worldwide alumni base, through targeted events, issue-oriented communications, and using social media to generate new forms of alumni engagement and participation, and building on the university's strengths in information technology, robotics, entertainment technology, business and entrepreneurship, and policy.
Appointed vice president for development and alumni relations at Carnegie Mellon University in January 2000, her responsibilities were soon expanded to include marketing and media relations for Carnegie Mellon. She has planned and has directed the university's $1 billion fundraising drive scheduled to end in 2013, which met its goal in February 2012, nearly eighteen months ahead of schedule. Under her direction, Carnegie Mellon has doubled the amount of money raised from an average of $50 million per year in the 2000s to averaging $100 million per year today. In addition, during her tenure, she has increased the amount raised from international donors from $10 million to $75 million.
Mrs. Kosak has had an extensive career in university advancement. Before joining Carnegie Mellon, she served as the vice president for institute advancement at Rensselaer Polytechnic Institute in Troy, New York, where she was responsible for the university's global activities related to marketing and media relations, alumni relations, and fundraising. Prior to joining Rensselaer in 1994, she served as vice president for university relations at Bucknell University, executive director of the campaign for Illinois Institute of Technology, and assistant vice president of development at Northwestern University. Mrs. Kosak began her career in university administration at Carnegie Mellon, where she served as associate director of alumni relations and director of foundation fundraising.
Mrs. Kosak is a sought-after speaker regarding international advancement partnerships, strategic and campaign planning, and trustee/governance issues. She also serves on the boards of directors of the Pittsburgh Parks Conservancy, the American Middle East Institute (founding board member) and the Urban League of Greater Pittsburgh. A summa cum laude graduate of the Pennsylvania State University (Penn State), and the Harvard University Institute for Educational Management, Mrs. Kosak resides in Pittsburgh, Pennsylvania, with her husband, Thomas, who owns a graphic design firm.