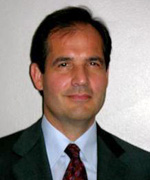 Enzo M. Zoratto, P.E.
President & COO
International Electric Power
Mr. Zoratto has built and managed companies in the energy, infrastructure, environmental, and logistics markets over the last 30 years. He is recognized for his ability to conceptualize, develop and implement successful growth strategies. He has held profit and loss responsibility throughout most of his career and has grown businesses from inception to as much as $800 million in annual revenues with a backlog of over $4.0 billion, through both organic growth and acquisitions. As the President and COO of IEP, Mr. Zoratto develops energy and infrastructure projects in challenging environments both within the United States and internationally.
Today, Mr. Zoratto is President and Chief Operating Officer of IEP, a company focused on the development of alternative energy projects worldwide. He also serves as the Chief Commercial Officer for Renewable Manufacturing Gateway; a non-profit focused on helping companies commercialize renewable and clean technology (RECT) that in-turn, creates new manufacturing businesses and jobs in Western Pennsylvania, Ohio and West Virginia.
Mr. Zoratto holds a BS in Civil Engineering from the University of Toronto and is a graduate of the University of Toronto, School of Music, Piano Program. He is a registered Professional Engineer and is fluent in English, French and Italian.