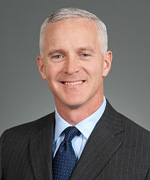 Donald J. Heberle
Executive Vice President, BYN Mellon Wealth Management
President – BNY Mellon of Pennsylvania
Don Heberle is executive director, BNY Mellon Wealth Management with responsibility for our International Wealth Management business. Don is also responsible for the domestic ultra high net worth and Wealth Management Select business segments. In addition to his management role, Mr. Heberle meets with clients and works with key contacts in the industry to ensure that BNY Mellon Wealth Management is well positioned to develop and implement innovative approaches to investment and wealth management. He is a frequent speaker about investment strategy and the economic environment. Don is a member of BNY Mellon's Operating Committee.
Mr. Heberle joined the firm in 1997 to manage family office client portfolios, and subsequently assumed full management responsibility for the Family Office business. He developed and implemented the firm's tax-managed equity investment process over which he continues to have oversight. Subsequently, Mr. Heberle served as director of investment strategy for Mellon's Private Wealth Management group, with responsibility for managing the analysis and development of investment ideas, strategic asset allocation and investment product research. Prior to his current role, Mr. Heberle served as executive director for the Family Office and International Wealth Management businesses.
Mr. Heberle joined the firm from a management consulting firm, where he designed and implemented solutions related to issues of business strategy and operations. In addition, he has commercial banking experience in portfolio analysis, risk management and commercial lending.
Mr. Heberle received a bachelor's degree in economics from Harvard College and a master of business administration in finance and accounting from Carnegie Mellon University. He is the former president of the Harvard Club of Western Pennsylvania, and a member of the Duquesne Club. Don is also a member of the Investment Policy and Special Investments Committees.